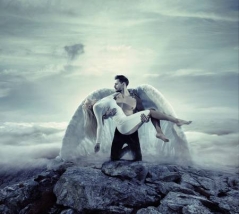 TO START FROM EPISODE 1 CLICK HERE
IF YOU MISSED EPISODE 28 CLICK HERE
It's been a month since both Michael and Jessie got married and everything has been going on well.
Right now Michael and Jessie were lying on their bed with their hands wrapped around each other.
Jessie had her eye's fixed on Michael; waking up by his side every day still feels very special, she know she is very lucky to have an Angel who is her husband.
When you are done staring at me; let's go have our bath, Michael said pulling Jessie out of her thought.
Jessie chuckled softly as she lean down and kiss her husband before Michael pulled her out of the bed towards the bathroom.
When they were done bathing, they head for the living room; Jessie excused herself and left to help prepare breakfast.
When breakfast was served, the entire family eat in silence and when they were done they all head to the living room.
Hey sunshine; "where are you going"? Jessie asked quickly to sunshine who was running towards the front door.
Sunshine paused and took a deep breath before she spoke; I'm just going to stand outside for a while.
"Okay" Jessie said as she watched her sister ran out of the house.
Jessie rested her head on Michael's shoulder for a moment before she felt him tense up.
"What is the matter"? Jessie asked
"Demon's" The Angels in the room shouted in unison.
Michael stood up quickly and hid Jessie behind him. They heard their windows shattered into pieces and demon's started tripping in; The front door was rip off it's hinges as a demon walked in with a screaming sunshine in his hands.
Sunshine! Jessie yelled as she made an attempt to walk to her sister but Michael held her back.
"What do you demon's want from us"? Raguel asked while glaring at them; he could not even believe demon's broke into their home.
We don't want any trouble, we just want "her"; the demon leading the group said as he pointed at Jessie.
"You must be joking" Michael spat out
"Do we look like we are joking"? The demon said as he gestured to the other demon's standing in the room.
Just hand us the human and we will leave; see we don't want any trouble, the demon concluded
"She is not going anywhere" Michael said as he held onto Jessie's hand tightly.
"What does it matter to you Angels that we want the human"? The demon asked
She is not just any human; "she is my wife" Michael sated
"Wife"? The demon asked in surprise; But you are the cause if your parents death that's why heaven deprive you from having a soulmate;
"So how come this human is your wife"? The demon asked with raised eyebrow.
Jessie squeezed Michael's hand tightly; she felt the way he tensed up when the demon's mentioned his parents death.
We don't have time to waste; hand the human over our Master is waiting for her arrival, the demon said sharply.
"What does the demon leader want with her"? Raguel asked
It's none of your business, the demon spat; "Now hand the human over" he ordered.
"She is not going anywhere" Michael said eyeing the demon.
"As if you can stop us from taking her, the demon said with a smirk".
The Angels in the room took a stance to fight;
"we won't let you take her"Raguel said.
Then we are going to kill this little one right here, the demon said as he gestured at sunshine who was still crying in the hands if one of the demons.
No! Jessie shouted shaking her head
Please let my sister go; I will go with you.
"Good choice human" the demon said.
"I can't let you leave" Michael whispered holding Jessie's hand tightly.
Jessie turned to look at Michael; I will wait for you and the rest of the family to come get me, I will hold on for as long as I can.
Michael started shaking his head but Jessie immediately hug him; "I will hold on for you" she whispered in his ears.
Michael could only nod his head to Jessie's word
. Jessie slowly pulled out of the hug an turn to face the demon; "let's go" she said.
Sunshine was immediately shoved aside and Elena caught her before she could hit the ground.
Jessie turn to look at Michael one last time; " I love you" she whispered before the demon took hold of her hands and vanished.
Michael instantly broke down into tears; he flashed his wings and vanished out of the living room. Raguel was about to follow him but Elena stopped him; let him be alone for now, Elena said.
Michael landed in his bedroom and fell on his knee's;
"why does bad thing always happen to me"? He asked crying; "Haven't this demon's done enough"; first my parents and now my wife.
"Please God keep my wife safe" Michael whispered as more tears fell from his face.
---
When they arrived at the demon zone they drag her into a room and shoved her hard to the ground.
"What does your leader want with me"? Jessie asked
You will get to find out soon, the demon said; "Tie her up," he ordered.
After Jessie was tied up, the demons left the room and immediately she heard the door shut closed she let out the tears out the tears she has been holding back.
She was silently praying that Michael was coping well.
She suddenly heard the door to the room opened, she immediately stopped shedding tears; she does not intend to show her weakness to any demon.
The demon leader walked in with two other demons with a smug look on their faces;
Hello there we meet again, the demon leader said
He moved closer to Jessie and and trail his finger down her face; "Beautiful" he murmured
"Take those cursed infected fingers of yours from my face" Jessie snapped
I really like you and I will make you mine; you will bear my children, the demon leader said
"Never" I will die before I let you touch me, Jessie shouted
No darling, you are not dying but that stupid Angel I heard called you his wife is going to die, The demon leader sneered.
Jessie shiver slightly; she saw the pure rage in the demon's leaders eye's and she knows he means every word he said.
"What will I do if anything happens to Michael"? She thought to herself.
She was brought out of her thought when she saw the demon leader leaning in to kiss her lips, she immediately turn her face and the kiss landed in her check.
The demon leader chuckled; "I will surely make you mine" He said before turned around and left the room.
Tears fall from Jessie's eye's; she could only pray nothing happens to Michael.
Comment and share oo😍😍
Share if you're eager to read the next episode as I am.
The higher the share, the faster I post 🤷
👇👇👇👇👇👇👇👇👇👇
Please Encourage Me By Sharing This story.

(Kindly Click Here To Share This Story With Friends)
---
---
Click Here To See The List Of Our Completed Stories
---
---
For A Better Experience On Our Website, Use Chrome Browser Or

Firefox Browser

. To Use Opera Mini Browser , Disable Your Data Saver Or Turn It OFF Completely