Pope Kisses Feet Of South Sudan Leaders, Urges Them To Maintain Peace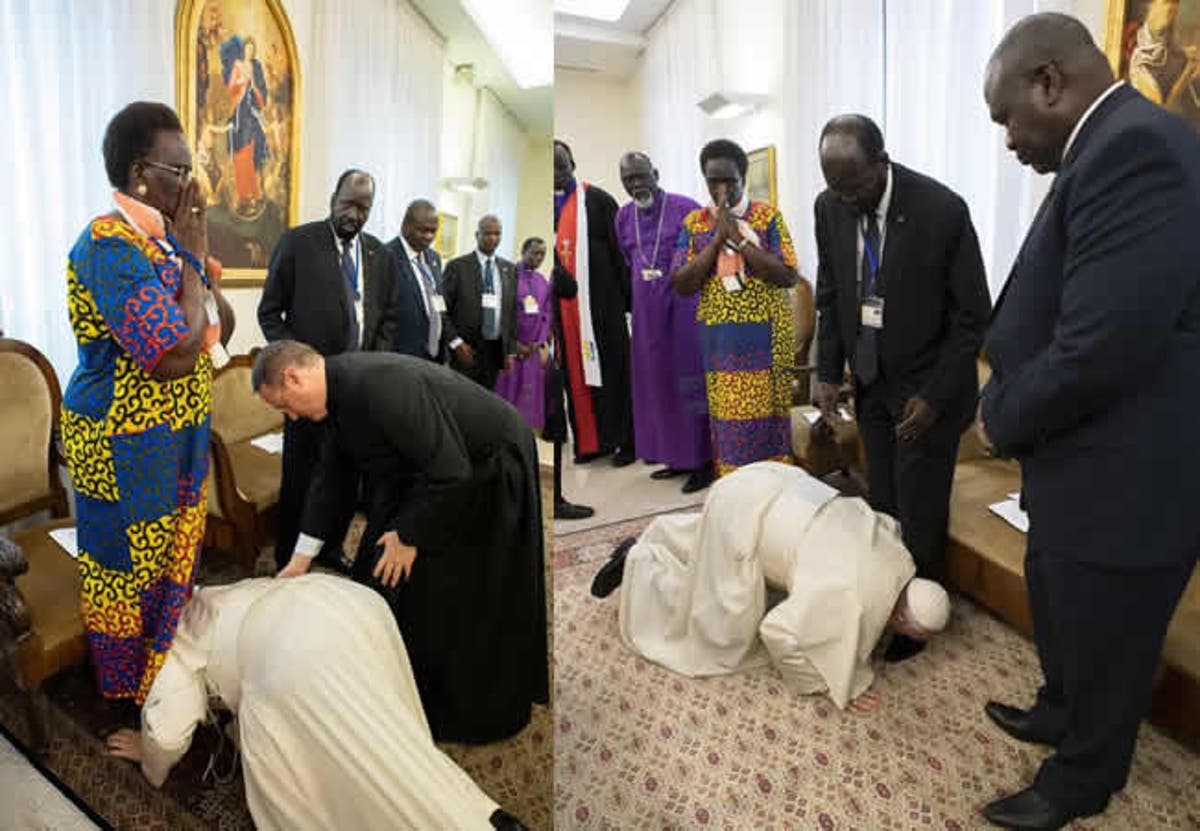 Pope kisses feet of South Sudan leaders.
Pope Francis on Thursday knelt to kiss the feet of South Sudan's previously warring leaders, in a dramatic gesture after an unprecedented retreat at the Vatican.
Pope however urged them to not return to a civil war.


He also appealed to President Salva Kiir, his former deputy turned rebel leader Riek Machar, and three other vice presidents to respect any peace agreement they signed and commit to forming a unity government in May.
"I am asking you as a brother to stay in peace. I am asking you with my heart, let us go forward.
"There will be many problems but they will not overcome us. Resolve your problems," Francis said in improvised remarks.

The leaders appeared to be stunned as the 82-year-old pope, helped by aides, knelt with difficulty to kiss the shoes of the two main opposing leaders and several other people in the room.
The pope's words were made even more pressing as anxiety grew in South Sudan over whether Thursday's coup in neighbouring Sudan could scupper a fragile peace deal that ended South Sudan's brutal five-year civil war.
The Vatican brought together South Sudanese leaders for 24 hours of prayer and preaching inside the pope's residence in a last ditch attempt to heal bitter divisions a month before the war-ravaged nation is due to set up a unity government.
---
---
Click Here To See The List Of Our Completed Stories
---
---
DONATE TO US!

Please Click Here To Support Our Hand Work Financially, We Can Never Be Lazy Youths.

No Amount Is Small.

Thank You And God Bless.
---
---
STAY SAFE: Quarantine Yourself By Enjoying Our Stories
---
---
Always Use The Search At The Top or Bottom of This Page To Find Any Story Part You Need. Just Type The Name Of The Story And The Part You Are Looking For. And Boom, You Have It.
---
---
Enjoy The Speed Of Our Website At A Blink Of An Eye!!!
If Your Opera Mini Browser Is Slow or Refused To Open Our Website.
SOLUTION: Disable Your Data Saver Or Turn It OFF, Then Try Again. Or Better Still Use Browsers Like Chrome And Firefox.
---
---
For Your Easy Access, Save Or Bookmark Our Website CoolStories22.Com On Your Favorite Browser, So That You Can Easily Re-visit Daily.
---
---
SHOW US LOVE!:
Thank you for reading our stories. Am sure you enjoy them. Please support us by sharing these stories to your friends. Someone had probably shared this to you and that was why you had the opportunity to read it too. Lets continue the cycle. Just one share from you can make us grow bigger. Please don't go without sharing.
---
---
THANKS!!!
---
---
Get Our Free Daily Email Updates